In a recent project (the numerical solution of the Dirac equation) I am working on, the computation of the fast Fourier transform (FFT) of four interwoven two-dimensional grids is the main computational task. Interwoven grids means that the memory layout of the matrices is such that data starts with the 1st element of the 1st matrix followed by the 1st element of the 2nd, 3rd and 4th matrix, respectively. The 5th data element represents the 2nd element of the 1st matrix and so on.
I tested two different FFT libraries that are able to compute a FFT in parallel on shared memory computers, the FFTW (version 3.2.2) and the Intel® MKL (the version that comes with the Intel® compiler suite version 11.1.056), and was quite surprised to see very large performance differences for this particular kind of parallel FFT. The Intel® MKL FFT routines show a very poor parallel speedup. Even with eight cores, the speedup never exceeds two, whereas the FFTW library reaches a reasonable speedup.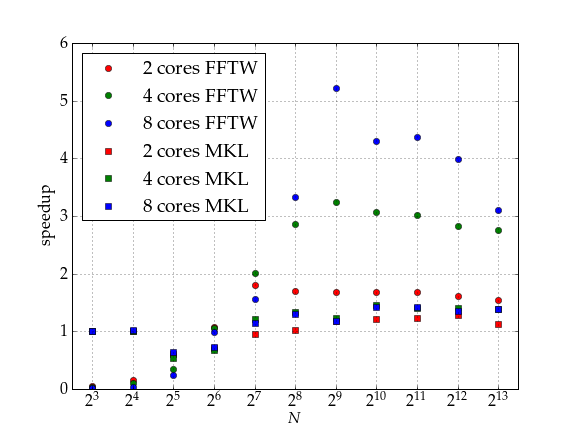 The FFTW library also excels the MKL in terms of absolute computing time.  Depending on the problem size, FFTW may be four times faster. Only for very small matrices, the MKL is superior. Thus, one my conclude that the FFTW library is a good example how a high quality open source software can outperform a vendor library.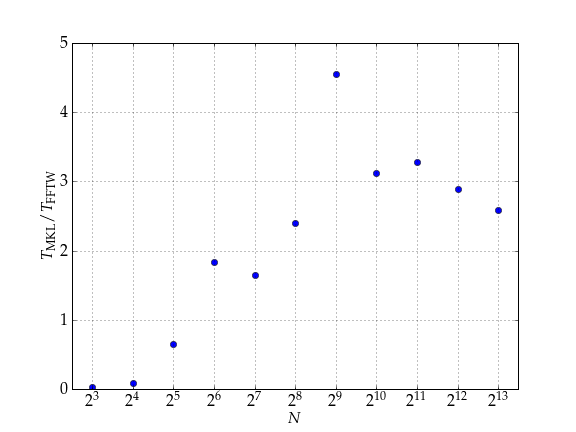 All performance measurements have been done on a system with two Quad Core Intel® Xeon® CPUs (E5345) at 2.5GHz. FFT plans were generated in measure mode. It would be very interesting for me to do a similar FFT benchmark on graphics hardware. However, I do not own a high performance graphics card.
Update: My test program utilized a lightweight convenience wrapper around FFTW (and the MKL internal FFTW-wrapper). For this reason I do not want to publish the original code. However, here is an equivalent program that does not depend on external libraries except FFTW.
// depending on your compiler and os compile with
//
// g++ -fopenmp -O3 -o time_dirac_fft time_dirac_fft.cc -lfftw3 -lfftw3_threads -pthread
//
// or with
//
// icc -openmp -O3 -o time_dirac_fft time_dirac_fft.cc -lmkl_intel -lmkl_intel_thread -lmkl_core
//
// or with
//
// icc -openmp -O3 -o time_dirac_fft time_dirac_fft.cc -lmkl_intel_lp64 -lmkl_intel_thread -lmkl_core

#include <cstdlib>
#include <complex>
#include <iostream>
#include <sstream>
#include <fstream>
#include <omp.h>
#include <fftw3.h>
#if defined __unix__
#include <unistd.h>
#include <sys/time.h>
#include <sys/times.h>
#else
#include <ctime>
#endif

// helper class for time measurements
class timer {
private:
  const double _resolution;
  double _t, _t_start;
  bool isrunning;

  double get_time() const {
#if defined __unix__
    struct timeval tv;
    gettimeofday(&tv, 0);
    return static_cast<double>(tv.tv_sec)+static_cast<double>(tv.tv_usec)*1e-6;
#else
    return static_cast<double>(std::clock())*_resolution;
#endif
  }
public:
  void reset() {
    _t=0.0;
  }
  void start() {
    _t_start=get_time();
    isrunning=true;
  }
  void stop() {
    if (isrunning) {
      _t+=get_time()-_t_start;
      isrunning=false;
    }
  }
  double time() const {
    return _t+( isrunning ? get_time()-_t_start : 0.0 );
  }
  double resolution() const {
    return _resolution;
  };
  timer() :
#if defined __unix__
    _resolution(1e-6),
#else
    _resolution(1.0/CLOCKS_PER_SEC),
#endif
    _t(0), _t_start(get_time()),
    isrunning(true) {
  }
};

typedef std::complex<double> complex;

// test FFT performance as required for one-dimensional Dirac equation
void time_1d(int p, std::ostream &out) {
  out << "% one dimensional FFT\n"
      << "% two grids interwoven\n"
      << "%\n"
      << "% number of cpus = " << p << "\n"
      << "%\n"
      << "% n\ttime in sec.\n";
  omp_set_num_threads(p);
  omp_set_dynamic(false);
  fftw_plan_with_nthreads(p);
  for (int n=4; n<=16777216; n*=2) {
    complex *v=reinterpret_cast<complex *>(fftw_malloc(2*n*sizeof(*v)));
    if (v!=0) {
      fftw_iodim io_n[1]={ {n, 2, 2} };
      fftw_iodim io_is[1]={ {2, 1, 1} };
      fftw_plan p1=fftw_plan_guru_dft(1, io_n, 1, io_is,
                      reinterpret_cast<fftw_complex *>(v),
                      reinterpret_cast<fftw_complex *>(v),
                      FFTW_FORWARD, FFTW_MEASURE);
      fftw_plan p2=fftw_plan_guru_dft(1, io_n, 1, io_is,
                      reinterpret_cast<fftw_complex *>(v),
                      reinterpret_cast<fftw_complex *>(v),
                      FFTW_BACKWARD, FFTW_MEASURE);
      for (int i=0; i<n; ++i) {
    v[2*i]=complex(static_cast<double>(i+1)/static_cast<double>(n),
               static_cast<double>(i+1)/static_cast<double>(n));
    v[2*i+1]=complex(static_cast<double>(i+1)/static_cast<double>(n),
             static_cast<double>(i+1)/static_cast<double>(n));
      }
      timer T1;
      T1.start();
      int i=0;
      do {
    fftw_execute_dft(p1,
             reinterpret_cast<fftw_complex *>(v),
             reinterpret_cast<fftw_complex *>(v));
    fftw_execute_dft(p2,
             reinterpret_cast<fftw_complex *>(v),
             reinterpret_cast<fftw_complex *>(v));
    ++i;
      } while (T1.time()<4 and i<16);
      double t1=T1.time()/i;
      fftw_free(v);
      fftw_destroy_plan(p1);
      fftw_destroy_plan(p2);
      out << n << '\t' << t1 << std::endl;
      std::cerr << "1d\tp = " << p
        << "\tN = " << n
        << "\ttime = " << t1 << std::endl;
    } else
      std::cerr << "2d\tp = " << p
        << "\tN = " << n
        << "\tnot enough memory" << std::endl;
  }
}

// test FFT performance as required for two-dimensional Dirac equation
void time_2d(int p, std::ostream &out) {
  out << "% two dimensional FFT\n"
      << "% four grids interwoven\n"
      << "%\n"
      << "% number of cpus = " << p << "\n"
      << "%\n"
      << "% n\ttime in sec.\n";
  omp_set_num_threads(p);
  omp_set_dynamic(false);
  fftw_plan_with_nthreads(p);
  for (int n=4; n<=8192; n*=2) {
    complex *v=reinterpret_cast<complex *>(fftw_malloc(4*n*n*sizeof(*v)));
    if (v!=0) {
      fftw_iodim io_n[2]={ {n, 4, 4}, {n, 4*n, 4*n} };
      fftw_iodim io_is[1]={ {4, 1, 1} };
      fftw_plan p1=fftw_plan_guru_dft(2, io_n, 1, io_is,
                      reinterpret_cast<fftw_complex *>(v),
                      reinterpret_cast<fftw_complex *>(v),
                      FFTW_FORWARD, FFTW_MEASURE);
      fftw_plan p2=fftw_plan_guru_dft(2, io_n, 1, io_is,
                      reinterpret_cast<fftw_complex *>(v),
                      reinterpret_cast<fftw_complex *>(v),
                      FFTW_BACKWARD, FFTW_MEASURE);
      for (int j=0; j<n; ++j)
    for (int i=0; i<n; ++i) {
      v[4*(j*n+i)]=complex(static_cast<double>(i+1)/static_cast<double>(n),
                   static_cast<double>(j+1)/static_cast<double>(n));
      v[4*(j*n+i)+1]=complex(static_cast<double>(i+1)/static_cast<double>(n),
                 static_cast<double>(j+1)/static_cast<double>(n));
      v[4*(j*n+i)+2]=complex(static_cast<double>(i+1)/static_cast<double>(n),
                 static_cast<double>(j+1)/static_cast<double>(n));
      v[4*(j*n+i)+3]=complex(static_cast<double>(i+1)/static_cast<double>(n),
                 static_cast<double>(j+1)/static_cast<double>(n));
    }
      timer T1;
      T1.start();
      int i=0;
      do {
    fftw_execute_dft(p1,
             reinterpret_cast<fftw_complex *>(v),
             reinterpret_cast<fftw_complex *>(v));
    fftw_execute_dft(p2,
             reinterpret_cast<fftw_complex *>(v),
             reinterpret_cast<fftw_complex *>(v));
    ++i;
      } while (T1.time()<4 and i<16);
      double t1=T1.time()/i;
      fftw_free(v);
      fftw_destroy_plan(p1);
      fftw_destroy_plan(p2);
      out << n << '\t' << t1 << std::endl;
      std::cerr << "2d\tp = " << p
        << "\tN = " << n
        << "\ttime = " << t1 << std::endl;
    } else
      std::cerr << "2d\tp = " << p
        << "\tN = " << n
        << "\tnot enough memory" << std::endl;
  }
}

int main() {
  fftw_init_threads();
  for (int p=1; p<=8; ++p) {
    {
      std::stringstream name;
      name << "fftw_timing_dirac_1d_p=" << p << ".dat";
      std::ofstream out(name.str().c_str());
      time_1d(p, out);
    }
    {
      std::stringstream name;
      name << "fftw_timing_dirac_2d_p=" << p << ".dat";
      std::ofstream out(name.str().c_str());
      time_2d(p, out);
    }
  }
  return EXIT_SUCCESS;
}